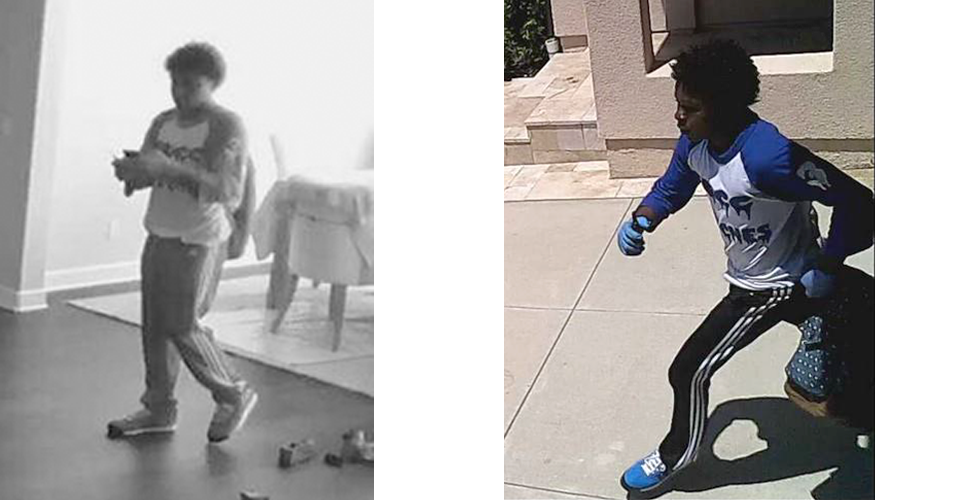 Irvine, Calif.  (Aug. 1, 2017) – The Irvine Police Department is looking for a suspect who broke into a home in the Woodbury neighborhood on Monday afternoon. The suspect was captured on video inside the house as well as leaving the residence.
On Monday between 12:20 and 12:37 p.m., the suspect smashed the rear sliding glass door of a home in the 20 block of Royal Grove. At 12:37 p.m., a babysitter returned home with a child who resides at the home and discovered the suspect on the staircase. He ran past the babysitter and fled through an open garage door. He was last seen walking eastbound.
The suspect is a black male, 18 to 25 years old, weighing 170 pounds with black hair. He was seen on video wearing a long sleeve blue-and-white shirt with the number "3" on one sleeve. He had on black Adidas sweatpants with white stripes down the side, blue tennis shoes and blue gloves. He carried a backpack that is blue with white polka dots.
Anyone with information in this case is asked to call Irvine Police Department Detective Jameson Roberts at 949-724-7170 or jroberts@cityofirvine.org.
###