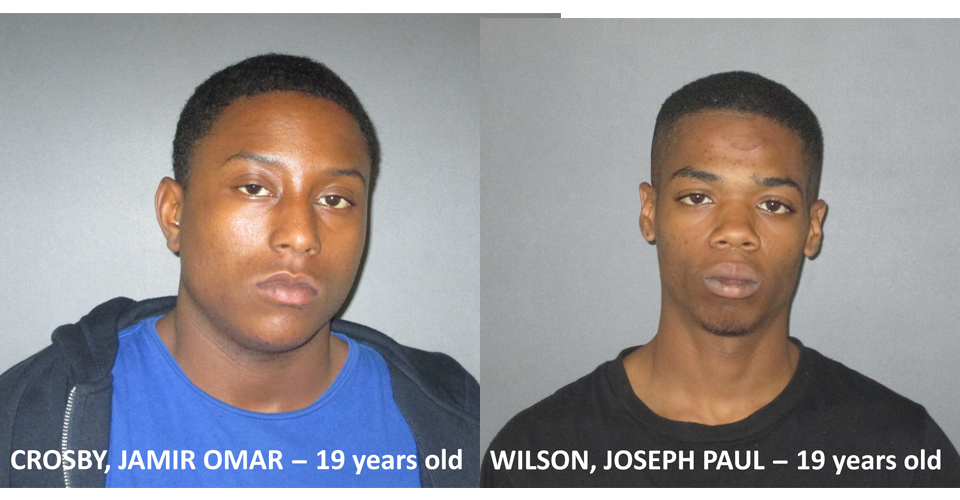 Irvine, Calif. (June 22, 2017) – Irvine Police early Tuesday arrested two suspects in a string of commercial burglaries that have occurred in the City. Joseph Paul Wilson, 19, and Jamir Omar Crosby, 19, both of Compton, were arrested on charges related to at least three burglaries in Irvine. 
At approximately 3:30 a.m. on Tuesday, officers responded to a call regarding a burglary alarm at Honey Bee, 14775 Jeffrey. Upon arrival, officers discovered a smashed glass door. Officers searched the store but did not locate any suspects at that time.
Officers then conducted a patrol check of a nearby shopping center, at Irvine Center Drive and Sand Canyon. At that time, they noticed a suspicious vehicle driving past storefronts and initiated a stop. Two males were in the vehicle, one of them attempting to hide in the backseat. One of the men had broken glass on his clothing and a cut on his hand. A crowbar was located in their possession. One of the males admitted burglarizing Honey Bee, as well as a Togos restaurant and L&L Barbecue in the Heritage Plaza shopping center, 14400 Culver Drive.
Anyone with information on this case or these suspects is asked to call Irvine Police Department Detective Matt Ricci at 949-724-7189.
###