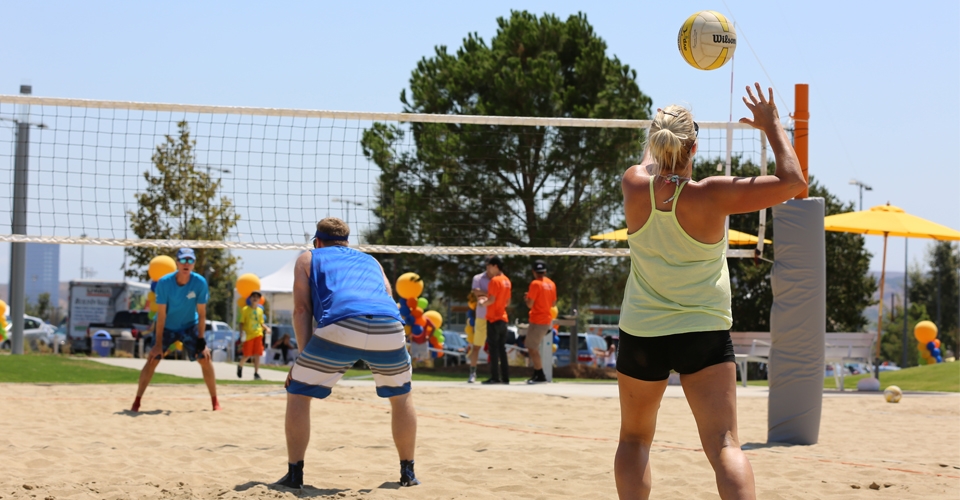 The Orange County Great Park is now offering sand volleyball leagues led by instructor and professional competitor Matt Taylor. Grab your fellow volleyball-enthusiasts and join the Great Park for some under-the-lights competition weeknights this summer. King and Queen of the Court Doubles and Coed Shuffle 4's arrive at the Great Park Sports Complex's sand volleyball courts beginning June 19.
Leagues are open to those 18 and older, and run through Aug. 21. Learn more and register for this brand new program here.
Sand Volleyball for Kids
The Great Park also offers sand volleyball lessons and camps for children.
Lessons for ages 10-14 run June 19-July 17 and July 24-Aug. 21. Students can expect to learn the basics of the game in a fun, yet challenging environment taught by top-notch coaches. Classes will include instruction on technique, drills to reinforce, and plenty of game play. Learn more and register for Sand Volleyball Lessons here.
Sand volleyball camps for ages 9-14 are offered various weeks throughout the summer, June 11-Aug. 17. Younger and introductory campers will work on basic fundamentals. Older and more skilled players will work on two-on-two match strategies. Learn more and register for Sand Volleyball Camps here.